A Brief History of Accountable Care Organizations (ACOs)
Discover the history of Accountable Care Organizations and how they're saving money!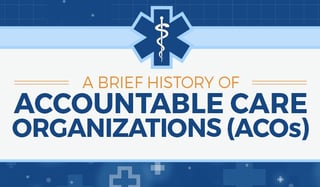 Healthcare is something that affects virtually every person in the United States. Policy makers and citizens have struggled with how to go about properly providing and paying for these services almost as long as the country's been around. Accountable Care Organizations (ACOs) were created in 2011 by the U.S. Department of Health and Human Services to combat rising healthcare costs. They have quickly become a valuable part of the country's healthcare system overall, providing a plethora of savings for providers, which can ultimately be passed down to patients.
There are a variety of aspects that go into becoming an ACO, but so far the results have shown overwhelming successful evidence. In the accompanying infographic, information on some of the program's history, statistics, and results can be seen. Some of that information includes:
Reason for Creation

Dramatic Growth

ACO Obligations & Commitment

Potential Savings Estimated to Reach Almost $1 Billion Over 4 Years

32 Pioneer ACOs Paved the Way

Millions of Dollars in Savings First Couple Years

Approximately 260 ACOs in Existence Today

Future Projections & Potential Savings
If you're interested to know more about these innovative and increasingly popular care providers for Medicare and Medicaid beneficiaries, check out the infographic provided, entitled "A Brief History of Accountable Care Organizations (ACOs)," for more in-depth information.