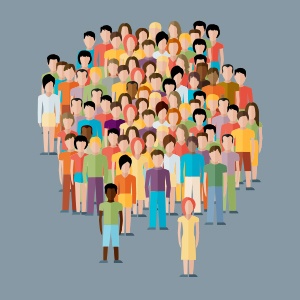 Population Health Management is the aggregation of patient data across multiple health information technology resources, the analysis of that data into a single, actionable patient record, and the subsequent actions taken by care providers to improve both the clinical outcomes of patients and the financial outcomes of the care providers. It involves the proactive use of strategies, measures and tools to safely and cost-effectively improve the health outcomes of a specific population while empowering the people of that population to better manage their own health.
Successful population health management involves the collection, analyzation and sharing of pertinent patient data from a growing number of connected applications and devices. Because population health management is achieved through the aggregation of large amounts of health data, EHRs play an important role by documenting and allowing the sharing of important patient data and storing that data for use by clinicians. By collecting and storing that patient data, healthcare providers can keep a streamlined record of care and create a care plan specific to an individual.
According to AHIMA, population health management is an ideal way to refocus healthcare in order to prevent many costly health conditions and reduce overall healthcare costs. By identifying and monitoring specific people in a population, healthcare organizations strive to reduce hospital admissions, lower readmissions and decrease lengths-of-stay.
Personally, I love the concept of population health. We and our loved ones are all eventually patients. Anything that takes into account our health history across multiple disciplines and multiple providers, takes into account health patterns where we live, plus our heredity - all to help provide the best treatment and make it cheaper - I am all for it. EMR proliferation is providing the data to enable population health, but just having the data doesn't make it happen and certainly doesn't make it happen well. Business Intelligence tools have to be leveraged in a way to tell the right, accurate and complete story.
BI tools have the power to aggregate data and provide a comprehensive clinical picture of each patient. Healthcare facilities can leverage the information to track the clinical outcome for those patients. By combining clinical, financial and operational data, the delivery of care across a population of patients can be better coordinated. With the right information in hand, healthcare organizations can use disease, case and demand management to enhance the care of patients with chronic and costly diseases.
Additional benefits of successful population health management include:
Real-time insights that allow healthcare organizations to identify and address care gaps within a patient population;

Streamlined tracking and management of care for a reduced number of ER/ED visits;

Identification of patients whose health can be improved by preventative measures;

Lower healthcare costs for employees of organizations that utilize a PHM program;

Inclusion of patients not currently treated by a healthcare organization.
Learn More
At Syntrix Consulting, we specialize in helping you make sense of your data. We have the expertise to create the visualizations and reports to help tell the right, complete and accurate story in your data. Contact us today for a free consultation and learn how our BI applications and certified consultants can help you streamline your BI operations.
In order to see population health management benefits at your healthcare facility, be sure that you have an EMR system with the necessary reporting capabilities. If you're looking to implement the most popular EMR system, Epic, download our FREE eBook to see the 7 steps to a successful Epic Reporting Implementation: