Healthcare KPIs
Five KPIs Your Healthcare Organization Should Be Tracking
To know exactly how your healthcare facility is performing, tracking key performance indicators is essential. Learn which indicators need to be tracked.
---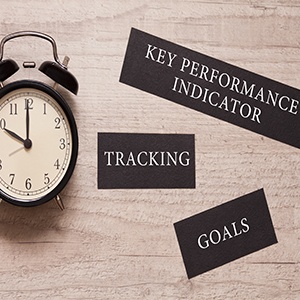 Measurements are used in a variety of ways, from deciding how much of a certain ingredient to put into a recipe to calculating the distance between two geographic locations. An important measurement in healthcare is a key performance indicator (KPI), which is designed to measure the progress of strategic goals of a hospital or physician practice. KPIs enable healthcare organizations to analyze real-time data to provide insight into their clinical, operational and financial performance. They signal to providers to drill down into data to identify and eliminate root causes for poor performance and make proactive decisions accordingly. In order for them to be effective, KPIs should be specific, achievable, measurable, actionable and relevant.
Healthcare dashboards give easy access to KPIs, so providers can have actionable insight into areas of opportunity and improvement while addressing disjointed workflows and bottlenecks. The following are five KPIs every healthcare organization should be tracking:
Admission Rates
Rates of hospital admissions indicate the number of inpatient admissions for a population in a specific time frame and help determine the health of that population by measuring the number of illnesses that require a high level of care. According to the American Hospital Association's most recent hospital statistics report, admissions have increased 125.9 percent since 1946.
With new technology and tools, hospitals are better able to track patient volume through their system. By regularly tracking admission rates through KPIs, healthcare organizations can gain insight into patient throughput for their system, compare their performance to statewide and national trends and use that information to make necessary changes and improvements.
Readmission Rates
Reducing readmissions has long been an issue for hospitals. The Center for Health Information and Analysis (CHIA) estimates the annual cost for Medicare of unnecessary readmissions is an astounding $26 billion. It's no surprise that readmission rates are utilized as a main KPI for hospital performance. Healthcare organizations that track readmissions on a healthcare dashboard are usually better equipped to handle measures for CMS' Readmissions Reduction Program (HRRP).
Patient Wait Time
Patient wait time significantly affects patient satisfaction, and prolonged waits can even produce unnecessary costs. Healthcare organizations that track patient wait times on a dashboard can monitor wait times at various flow points in an appointment to make decisions regarding staffing, equipment and check-in processes, identify bottlenecks and make improvements without interrupting patient flow.
It is no surprise that as patient wait times go up, the patient satisfaction goes down so it is vitally important to understand the patient wait times and where and when those bottlenecks are occurring. Identifying when higher wait times happen will help your organization develop staffing strategies for peak patient times and problem clinics.
Patient Satisfaction
Patient Satisfaction KPIs give healthcare organizations a better understanding of the patient experience and help them identify the most effective ways to increase patient satisfaction. They show the performance of activities that directly or indirectly impact patient satisfaction and help healthcare organizations determine which investments in improving the patient experience can best help them meet their business objectives.
One way to measure patient satisfaction is through surveys. Surveys will enable your organization to quantify the satisfaction levels of your patients. There are a variety of ways to conduct surveys that are listed below:
Phone Surveys

Written Surveys

Focus Groups

Personal Interview
All of these methods can provide tremendous informational value that should be monitored continuously to find insight on opportunities to improve your organization.
Average Length of Stay (ALOS)
ALOS often is used as an indicator of efficiency and measures average patient stay in a healthcare organization after having a specific procedure. ALOS KPIs can help providers compare metrics, discover areas for improvement and address methods for reducing ALOS. When creating ALOS KPIs it is important to understand your general patient population health because this will directly affect your overall ALOS metrics, which is important when comparing to other organizations. Furthermore, these metrics are frequently reported to local and national reporting agencies which will enable you to compare your averages to others organizations like yours.
Learn More
When used properly, KPIs can drive productivity, help increase patient satisfaction and motivate employees to excellence. Whether healthcare KPIs for your organization include average length of stay, patient satisfaction numbers or other data points, there's a chance you're not using key performance indicators for the highest value. Let Syntrix Consulting work with you to get the most out of your data. Contact us today to learn more!
If you're ready to incorporate these KPIs into your healthcare analytics reporting, make sure your healthcare facility has the reporting capabilities necessary. See how streamlined an Epic implementation by downloading our FREE eBook: