EMR/EHR Reporting
10 of the Biggest EHR Implementations in the U.S.
EHR implementations can occur in small medical practices and large hospital networks. Read about the 10 biggest EHR Implementations in the U.S.
---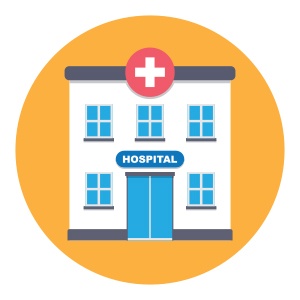 According to the American Hospital Association, as of January 2016, there were 5,627 registered hospitals in the United States. Of those hospitals, the ONC estimates that 95 percent demonstrated meaningful use of certified health IT, while 98 percent demonstrated meaningful use and/or adopted, implemented or upgraded an EHR.
In this blog, we're highlighting ten of the biggest (and some of the most expensive) EHR implementations in the United States. The hospitals are listed alphabetically, and the number of hospitals, licensed beds and employees are included.
1. Ascension Health
Based in St. Louis, Missouri, Ascension Health is comprised of 137 hospitals serving residents in 24 states and the District of Columbia. As the country's biggest non-profit health system and the world's largest Catholic health system, it boasts approximately 160,000 employees and an estimated 21,500 licensed beds. Ascension first contracted with Cerner nearly 12 years ago.
2. Catholic Health Initiatives (CHI)
This health system operates 103 hospitals in 19 states and has about 90,500 employees and 13,000 licensed beds. MEDITECH serves its inpatient critical access hospitals, while Cerner serves the needs of its larger facilities. Headquartered in Englewood, Colorado, Catholic Health Initiatives has utilized Allscripts for its ambulatory EHR since 2014.
3. Duke University Health System
Comprised of three main hospitals – Duke University Hospital, Durham Regional Hospital and Duke Raleigh Hospital – this health system has approximately 950 beds and 16,500 employees serving people from throughout North Carolina and southern Virginia. According to Becker's Hospital Review, Duke shelled out an estimated $700 million for its Epic EHR, which went live system-wide in 2014.
4. Hospital Corporation of America (HCA)
In 1968, Dr. Frist, Jack C. Massey and Dr. Thomas Frist, Jr. formed their own hospital management company, Hospital Corporation of America (HCA). Today, HCA's offerings include 168 hospitals in 20 states and England, an estimated 225,000 employees and 42,800 licensed beds. Based in Nashville, Tennessee, the health system went live with its EHR system in 2006, using MEDITECH in its ambulatory and inpatient facilities.
5. Kaiser Permanente
Headquartered in Oakland, California, Kaiser Permanente has 38 hospitals served by approximately 186,000 employees. One of the country's largest non-profit health systems, it includes about 8,800 licensed beds. According to Kaiser Permanente's former executive vice president and CIO, Philip Fasano, the health system spent almost $4 billion on its Epic EHR system, which became fully operational in 2010.
6. Mayo Clinic
Perhaps the best known of the country's major health systems, Mayo Clinic's three main hospitals are located in Minnesota, Arizona and Florida and include an estimated 1,700 licensed beds and 60,000 employees. Although it previously utilized Cerner and GE Healthcare, Mayo Clinic announced early last year that it had signed on with Epic for its EHR and revenue cycle management solutions for a reported "hundreds of millions" of dollars.
7. Partners HealthCare
This 10-hospital health system, based in Boston, Massachusetts is comprised of about 2,700 licensed beds and 64,000 employees. Partners HealthCare went live last June with its EHR from Epic after spending nearly $1.2 billion for the system.
8. Tenet Healthcare
Dallas-based Tenet Healthcare completed its Cerner EHR implementation in 2012. The health system is comprised of 84 hospitals, about 20,000 licensed beds and more than 13,000 employees in the United States and the United Kingdom.
9. Trinity Health
Trinity Health serves people in 21 states through its 90 hospitals, 13,920 licensed beds and approximately 95,000 employees. It has spent an estimated $1 billion in its EHR system built with Cerner.
10. Universal Health Services (UHS)
Headquartered in King of Prussia, Pennsylvania, the Acute Care Division of this health system serves people through 25 hospitals in California, Florida, South Carolina, Oklahoma, Texas and the District of Columbia. The system as a whole is comprised of about 26,000 licensed beds and more than 70,000 employees. UHS completed the implementation of Cerner EHR systems for its ambulatory and inpatient facilities in 2012.
Learn More
Although implementing an EHR system is a big investment, utilizing a proven resource like Syntrix Consulting can make for a smoother and often less expensive implementation. Contact us today to learn more or download our FREE eBook to see the 7 steps to a successful Epic reporting implementation: