3 Ways to Leverage Meaningful Use Consulting
Learn three productive ways to approach leveraging meaningful use consulting.
---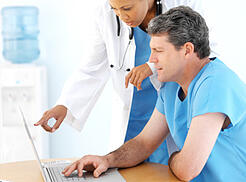 Sometimes the fastest way to resolve critical data-need back ups and other performance management issues is by utilizing ways to leverage meaningful use consulting.
The three most productive ways to approach leveraging the consulting recommendations your company has received should include:
1. Utilization of Reporting for Revenue Cycle Management
Revenue cycle management for hospital settings requires much more integration of processes than just managing a business office. The basis for maintaining healthy revenue cycles is driven by data integrity. This comes through patient registration and clinical documentation carried through to highly-accurate payment posting.
Today's major data experts can partner with your organization to improve data integrity. This means you can improve efficiency while reducing the number of days it takes to receive payment, resulting in a healthier revenue cycle.
2. Meaningful Use Reporting
In its final ruling, the Centers for Medicare and Medicaid Services (CMS) successfully outlined a set of minimum requirements. These were set for eligible healthcare professionals, as well as hospitals, in order to better qualify for incentive payments through use of EHR technology.
Implementing EHR systems provided by a certified vendor will not always translate into qualifying for meaningful use under the directives of CMS. To authentically accomplish meaningful use involves regularly submitting your sets of metrics to the CMS. This is done to better demonstrate that your organization is properly leveraging the capabilities of the EHR system.
Promoting an approach to EHR implementation actually begins with the end in mind - This means ensuring data elements that remain essential to meaningful use measures captured by your company's EHR system. Engaging meaningful use consulting will help strengthen your decision. This way you are far more able to support capabilities and facilitate timely submissions of all meaningful use consulting measures.
3. Utilization of Custom Solutions for Programming
Successful report development for the healthcare field naturally demands intimate understanding of the business of healthcare. An experienced team of business intelligence (BI) programmers integrate multiple years of healthcare experience into new programming delivery that can meet with custom needs.
Business intelligence programmers will be completely familiar with development tools and languages such as SQL, SAP BusinessObjects and Microsoft BI suites of tools.
Be sure to choose a trustworthy QlikView partner. This way you can ensure your QlikView implementation goes as smoothly as possible. This action is critical, as it is also important that any development efforts also remain unhindered. In addition, make sure your performance management consultant delivers the meaningful use consulting that fully provides an experienced resource.
These actions will help guarantee that you continue enjoying success in the following areas:
Development of custom managerial reports (either pre-scheduled or interactive)

Simple-to-perform data extracts in deliverable form to regulatory submissions or vendors

Newly designed custom dashboards for monitoring clinical operations

Broad access to custom reporting, project design and implementation as well as ongoing support
Due to the broad accessibility of high technology and the many programming solutions this has ushered in, there are no longer any valid reasons to function below the hum of the smooth application of meaningful use consulting.