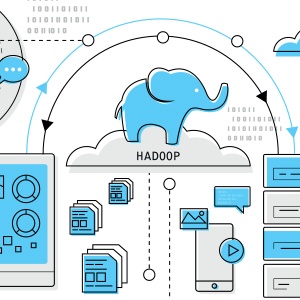 There are some unusual terms used in the healthcare industry, but "Hadoop" may be near the top. As a big data framework, Hadoop distributes enormous amount of data collections across multiple nodes within a cluster of commodity servers. It provides immense data storage and doesn't require the purchase of any costly custom hardware.
Healthcare providers are increasingly utilizing Hadoop to improve patient care and increase efficiency through personalized treatment planning, fraud detection, genome processing, DNA sequencing and monitoring of patient vital signs. Following are some ways Hadoop benefits the healthcare industry:
Helps hospitals and payers gain competitive advantages through the use of smart business solutions;

Stores large unstructured datasets in NoSQL databases;

Handles almost limitless concurrent tasks through its strong processing power;

Stores data in its native form;

Assists healthcare organizations access unstructured data, thereby reducing costs and increasing efficiency;

Helps providers more efficiently capture, store and analyze data for increased access and lower costs;

Enables payers to develop predictive models to identify fraud through the use of data;

Allows data professionals to produce any kind of application without including another platform;

Improves research capabilities for diagnoses and treatments;

Enables healthcare organizations to perform numerous data tasks at once.
Handling Hadoop
TDWI's report titled "Best Practices report, Hadoop for the Enterprise," revealed the following survey results:
Healthcare organizations that want to cost-effectively handle their data may want to consider getting in on the Hadoop trend. According to Research and Markets, the global Hadoop market is forecast to grow at a CAGR of 59 percent from 2016 to 2020.
Learn More
Syntrix Consulting knows cutting-edge healthcare technology and can work with healthcare organizations of all sizes to utilize it to best fit their business needs. Our certified consultants will work with you to ensure your IT analytic resources are optimized to enhance your clinical, financial and operational performance. Contact us for a free consultation.
For more information about healthcare analytics, Epic reporting, and how to have a successful implementation, download our FREE eBook: