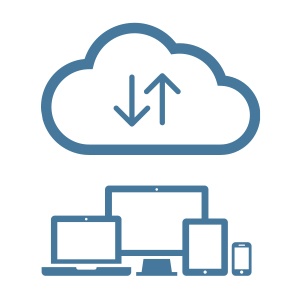 Use of cloud computing has been common in many industries over a decade, but the healthcare industry was slow to embrace it. That changed, though, as healthcare organizations started implementing plans to meet guidelines for the financial incentive programs from the HITECH Act. According to a HIMSS Analytics Cloud Survey, 80 percent of healthcare organization respondents report that they use cloud services, and a report from research firm MarketsandMarkets forecasts the healthcare cloud market to grow to $6.5 billion by 2018.
In this first of two blogs on cloud computing in healthcare, we'll discuss the benefits it brings to healthcare. The next blog will focus on tips for transitioning to the cloud.
Benefits: Mobility, Accessibility, Scalability and More
Probably the most common use for cloud in the healthcare industry is for EHRs. Cloud-based EHRs offer increased mobility, immediate access to data and support of large data sets. However, many other healthcare technologies can be used in the cloud to offer providers benefits that enhance their organizational performance. Following are a few of the top advantages of utilizing cloud technology in healthcare:
Scalability

– With cloud computing, healthcare organizations are easily able to scale their solutions to fit organizational needs and goals.
Mobility and Accessibility

– Providers who utilize cloud technology have on-demand access to computing and large storage facilities to remotely access patient records, thereby allowing them to more easily connect with other clinicians and patients. This enables collaboration among providers and reduces delays in patient treatment.
Decreased costs

– Cloud technology saves healthcare organizations the cost of storing hardware on premise and gives providers access to improved computing resources at a lower cost.
Improved Security

– Compared to server-based healthcare IT systems, cloud computing can offer better physician and cyber security and lowers the risks associated with handling patient information.
The Cloud Standards Customer Council offers the following ten steps to ensure success in cloud computing security:
Ensure effective governance, risk and compliance processes exist. Before migrating your data to the cloud ensure the cloud provider is in compliance with a set of security standards.

Audit operational and business processes. Ensure the cloud provider has been audited by reputable third-party auditors.

Manage people, roles and identities. Ensure the cloud provider has a proven and secure methodology for identity and account management.

Ensure proper protection of data and information. The cloud provider should meet security standards specifications such as ISO 27002.

Enforce privacy policies. Privacy requirements must be adequately addressed in the cloud service agreement.

Assess the security provisions for cloud applications. Make sure the cloud provider understands the application security policies you require.

Ensure cloud networks and connections are secure. Implement monitoring processes and tools to verify that connections are secure.

Evaluate security controls on physical infrastructure and facilities. Assurance may be provided by means of audit and assessment reports, demonstrating compliance to such security standards as ISO 27002.

Manage security terms in the cloud service agreement. Explicitly document in the agreement the terms required by your organization.

Understand the security requirements of the exit process. Ensure that the cloud provider can eliminate and return your data upon termination of the contract.
Learn More
If your healthcare organization is considering moving to the cloud, our certified consultants can help you map out a successful strategy. We accelerate the move from data to results by applying our combined expertise in healthcare and business intelligence to show what really matters: We Make Healthcare Data Talk™. Contact us today to learn more or request a FREE consultation below: