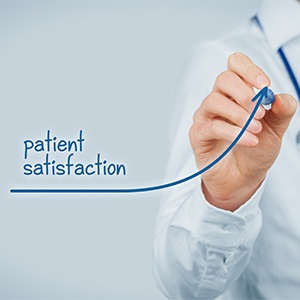 Most of us get annoyed when we receive a "courtesy" call on our phone. Often, it's someone offering a low credit card rate, stumping for a political candidate or asking us to take a survey. While those calls can be very annoying, surveys and similar methods used to achieve customer feedback can be very helpful in many industries.
The HCAHPS (Hospital Consumer Assessment of Healthcare Providers and Systems) survey is the first national, standardized, publicly reported survey of patients' perspectives of hospital care. In 2007 Medicare began requiring hospitals to collect information on patient satisfaction and report it to the government. These processes are part of an increasing push by healthcare providers to gather data on patient satisfaction, especially as they focus on patient-centered outcomes to measure the quality of the care they provide.
Many providers are utilizing healthcare analytics to sift through big data to quantify patient experience. Those analytics offer actionable insights into patient perception and satisfaction and allow for customized reports on those issues. They can even enable healthcare organizations to gather feedback on how non-clinical areas of operations, such as billing, affect some patients. A survey by TransUnion Healthcare found that patients who had a positive payment experience gave higher marks for the quality of care they received than patients whose financial experience was negative.
So what exactly does healthcare analytics focused on patient satisfaction achieve? Some highlights include:
Shows trends and goals in various areas of care

Delivers solutions to do in-depth analysis into patient satisfaction data

Streamlines monitoring of patient satisfaction

Offers performance scores for providers, leaders and facilities

Initiates improvement in process and procedures

Collects and combines feedback from multiple methods of patient surveys

Compares patient feedback with pre-defined goals and quality measures

Connects feedback data to operational and clinical indicators

Provides data to indicate underlying causes for decreased patient satisfaction

Captures patient input on staff performance

Points to specific factors important to patients

Provides evidence of value of care to purchasers and payers
By identifying areas in which to improve quality of care, patient satisfaction analytics enable healthcare organizations to gain deeper insight into KPIs about patient care. By doing this, organizations can implement processes and solutions that reduce or eliminate actions that negatively affect patients. Furthermore, this information can provide direction on developing new initiatives that offer a more positive patient-centric experience. Even seemingly small changes in processes that affect a healthcare organization's operational efficiency can result in positive feedback from patients. More positive patient feedback typically results in improved staff productivity and reduced turnover.
Patient satisfaction analytics can even be used to help healthcare providers track problems in real time that arise while a patient is hospitalized. Many healthcare analytics programs with a focus on patient satisfaction send alerts to appropriate staff members when a problem occurs, allowing the issue to be addressed quickly.
Learn More
At Syntrix Consulting, we help our customers create reports and glean data that captures an array of patient satisfaction information, which they can use to refine processes, implement policies, improve practices and support staff training. Contact us today to learn more and schedule a consultation.
For more information on how to have a successful Epic reporting implementation, download our FREE eBook: