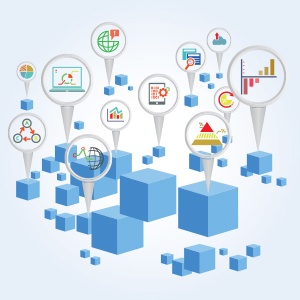 Across the healthcare industry, data is being utilized in new and exciting ways to improve the quality of patient care. As healthcare organizations begin to gather and distribute large amounts of data, however, they need methods, processes and tools in place to manage and safeguard how and where that data is being used. Data Governance is the system of rules, standards and tools used to ensure the safe and efficient use of data in your environment.
According to the Data Governance Institute, healthcare organizations should implement a formal data governance process when one of the following situations occurs:
The organization gets so large that traditional management is not able to address data-related, cross-functional activities.

The organization's data systems get so complicated that traditional management is not able to address data-related cross-functional activities.

The organization's data architects, service-oriented architecture teams, or other horizontally-focused groups need the support of a cross-functional program that takes an enterprise (rather than confined) view of data concerns and choices.

Regulation, compliance or contractual requirements call for formal data governance.
Some form of data governance should be in place for any organization, regardless of size. But, at the hospital and large practice level, a sound, formal data governance program is essential to effective and safe use of healthcare data.
When the correct data governance framework and structure is in place, healthcare organizations can realize a myriad of benefits, including:
Reduced operational costs/increased financial performance – Cutting costs through data governance can be achieved by eliminating duplicate processes and assets that aren't used, decreasing costs associated with poor data quality and reducing administrative costs by defining clear roles and responsibilities for data management. These benefits also can help to maximize the profits of a healthcare organization.


Standardized data/processes – Data governance gives healthcare organizations a way to standardize their approach to data use and promote consistency across the organization. Through streamlined data that is easily accessible in a centralized location to everyone who needs to utilize it, hospitals and physician groups can use it to further BI objectives and meet organizational goals.


Higher quality data – Clinicians and leadership use patient data to make important decisions, and those decisions can have a negative impact if made with incomplete or erroneous data. Hospitals with multiple data feeds may have contradictory data or information that benefits one department over another. Without complete and accurate data, healthcare organizations can experience significant operational and legal challenges. On the other hand, a sound data governance program will result in complete and consistent datasets which lead to excellent patient care and financial decisions, all ultimately having a positive impact on the bottom line.


Compliance – Compliance is often cited as one of the primary drivers for developing a formal data governance program. HIPAA regulations regarding "Need to Know" access to data have made data governance programs vital for maintaining data access safeguards. Clinicians should only have access to the data they need in order to provide the best possible care. Additionally, knowing who is accessing what data and when is required under new regulations. A data governance program is vital to complying with the ever changing regulation mandates.


Improved security

– It's not unusual for national news outlets to report a story about a breach of data, and healthcare organizations can reduce that risk through a data governance program. Helping to assure patients that their personal information is secure through data governance can have a positive impact on patient satisfaction. It builds trust between the patient and the organization by showing the patient that his or her privacy is a priority. Data governance results in reliable, up-to-date audit information and a reduction in the risk of the inappropriate use of that data. Solid governance programs will mandate that any non-essential or out-of-date data is destroyed in a secure manner.
In addition to these benefits, healthcare organizations that implement data governance procedures can see advantages including improved BI and healthcare analytics, fewer necessary measures for data clean-up, enhanced documentation and less time waiting to obtain critical data. With hospitals and physician groups often struggling to cut costs while improving patient care, data governance is an essential component to accomplishing those goals.
Learn More
Syntrix Consulting knows the ins and outs of data governance and can help your organization achieve the many benefits associated with it. Our experienced consultants have worked with facilities of all sizes and know what it takes to optimize their operations. Find out more by contacting us today.
If you're interested in starting a healthcare data governance program at your healthcare facility, having a strong EMR reporting solution can make the difference. Check out our FREE eBook to learn about Epic Reporting and how you can implement it: