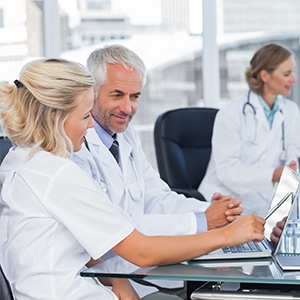 In a 2015 survey by Healthcare IT News, of healthcare professionals whose organizations utilize an EHR system, Epic was ranked at the top of the list of vendors in all categories: overall satisfaction, interoperability, features/design, and support. Based on its reliability, integration ability, and proven results, Epic has enjoyed sustainability and dominance in the EHR market for years, at healthcare facilities across the United States.
Another reason for Epic's success is its strict guidelines for consultants. Epic offers its own product specific training for each of its modules, and consultants can only be certified at the company's campus in Verona, Wisconsin.
The value of utilizing the skills of an Epic certified consultant, over a resource without such training, is significant. In addition to having demonstrated knowledge with the latest products from Epic, certified consultants have experience in all phases of an Epic implementation, and understand best practice methodologies specific to Epic.
Five of the key benefits of utilizing an Epic certified consultant include:
1. Strategic Planning
A certified consultant can support your organization at every stage of an Epic deployment, from pre-go-live to several years post-go-live. Their experience can provide a unique perspective to propose Epic solutions that will address your immediate needs, while building a foundation for future reporting and analytics success.
2. System Optimization
A consultant certified by Epic can help your organization customize the system to maximize its benefits and functionality. They also have the ability to reach beyond the technical side to help solve operational problems that impact the effective utilization of Epic. They know what works in Epic, as well as what doesn't, and can help analyze workflows, determine ROI, and develop analytics solutions to determine where improvements can be made.
3. Reporting Deployment
By having experience in all aspects of Epic reporting, certified consultants are able to build the infrastructure to deliver and manage reports and analytics solutions. In addition to knowing the ins and outs of the Epic system, and its array of comprehensive reporting solutions, Epic consultants can share how to best customize the system to meet the guidelines of quality reporting and regulatory compliance, including Meaningful Use.
4. Reporting Backlog Mitigation
It is not uncommon to experience a backlog of report requests shortly after an Epic go-live. This is sometimes the result of users getting familiar with their workflows and refining the types of reports they truly need. An Epic certified consultant understands the best strategies and solutions needed to manage and mitigate any backlog.
5. Reporting Team Support
These consultants work hand-in-hand with an organization's reporting team to strengthen their knowledge of the system, shorten the development cycle, and implement the best data analysis techniques and reporting solutions. They are able to help streamline request management processes, coordinate development activities, define programming and documentation standards, and provide on-site and remote training.
Learn more
Syntrix consultants are certified in multiple Epic applications and have extensive experience in supporting clients at every stage of Epic deployment. We are also experts in Epic reporting and are passionate about helping our clients be as successful and autonomous as possible. To learn more about the value a Syntrix consultant can bring to your organization, contact us today for a free consultation. Want some FREE information on how to eliminate your Epic reporting backlog? Download our eBook now: